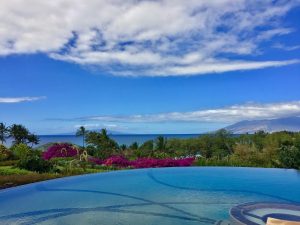 The very best that Maui has to offer, on the very best island in the world. An amazing and luxurious resort community, meticulously planned and beautifully maintained – Wailea and Makena is the ultimate "sweet spot" on Maui that has it all.
The incomparable beaches – beginning with majestic Keawakapu and southward to Mokapu and Ulua, then the sprawling sands of Wailea Beach, next is Polo before passing over into Makena. In Makena, you'll find Palauea (White Rock) on the lower Old Makena Road, before rejoining Makena Alanui to discover Po'olenalena, Maluaka, Black Sands, and finally Big Beach and Little Beach down in Makena State Park. Three incredible golf courses – the "Old Blue", Emerald and Gold courses all have appeal for golfers the world over. Amazing tennis facilities are nearby as well.
World class shopping awaits you at The Shops At Wailea. There you will find a selection of fine dining, sports bars, luxury brand name stores, coffee shops and ice cream parlors, beachwear, ukuleles, arts and crafts, and much more. The Shops At Wailea is right in the heart of the luxury market, surrounded along the coastline and beautiful beaches by the finest resort hotels and condos on the island. New development is springing up all around too, with the new Wailea Village Center going in around the Manoli's area, set to open soon. You will also find interesting stops, shops and restaurants at Wailea Town Center and Wailea Gateway.
Makena Condos for Sale
The luxury condos with gorgeous amenities abound in the Wailea/Makena area, with some offering short-term "vacation rentals", and some other condo community possibilities operating as residential condos, with no short-term vacation leasing allowed.
Short term, vacation rentable condos have the flexibility which can allow their owners to leave them in the vacation rental pool whenever the owners are away. This option may provide additional income to defer some of the expenses of ownership. Wailea Beach Villas is the centerpiece project in Wailea, but there are many beautiful condos from which to choose here. Hoolei, Wailea Elua, Wailea Point are among the many excellent choices, and a little further south in Makena, you have possibilities like Makena Surf offering amazing views in an oceanfront/beachfront community.
You may find that you get a little more "bang for the buck" at the residential condos, where the same price and sometimes even less, may get you square footage, more bedrooms, and perhaps even a garage. Communities like Papali Wailea, Kai Malu, Wailea Fairway Villas and Wailea Palms are among our favorites, offering some incredible amenities.
Makena Homes for Sale
The luxury homes in Wailea/Makena rival the finest anywhere in the world, offering wonderfully generous living spaces and many with unbelievable views. Prestigious Makena golf course and communities such as Wailea Golf Estates, Wailea Golf Vistas, Maluhia at Wailea and Wailea Highlands offer unparalleled opportunities for second home and vacation home potential owners. Be careful though; you may find yourself spending more and more time here – and loving every minute of it!
Many enthralling opportunities can be found in great Wailea neighborhoods like Wailea Pualani, Wailea Kialoa, and Wailea Kai. There's a wonderful way of life awaiting you here in paradise.
Makena represents a wild and wonderful, newer territory for the expansion of living the luxury lifestyle on Maui. Makena is the ultra-exclusive home away from home for many famous personalities and titans of business, along with many successful full-time Maui residents. Communities like One Palauea Bay, Keauhou at Makena and Black Sands at Makena have incredible opportunities, when available. There are many other private, hideaway home locations where you can live in a most excellent fashion as your ample reward for a job well done. Along the Oceanfront and Beachfront locations, your perfect one of a kind estate may just be where your path leads.
If you have devided to live in Makena, get in touch with Dale Richardson and Gigi King, your top Maui Realtors, at 808-208-1385 and 808-208-0122 to get the latest listings. You can also check out nearby communities such as Wailea, Kihei, and Lahaina.
Sorry we are experiencing system issues. Please try again.