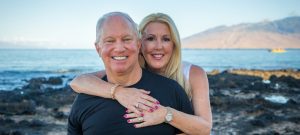 "We Believe in You and Your Dreams"
Rather watch it than read it? See the "Get To Know Dale & Gigi" video on the Home Page and in the Video Gallery.
Never forgetting the "secret" to success – delivering excellent service and great results for their clients – and their dedication to that ideal is what has kept Dale and Gigi as top producing, full time Real Estate Professionals for over 20 years each.
A lifelong love of Maui that turned into a dream come true. All the way back in 1990, during the first visit to Hawaii, Dale & Gigi both knew that one day, this magical place would be their home.
Gaining invaluable real estate knowledge and expertise along the way, they took the necessary steps, that would one day lead to selling luxury homes and condos in one of the most exclusive locations in the world.
A licensed Real Estate Broker in both Hawaii and Texas, Dale's real estate career began in Houston, Texas in 1993.
Dale had previously been working for the Grumman Corporation in Houston, Texas. When defense spending cuts finally shut the aircraft factory down, it prompted a career change. After building carrier-based aircraft as a civilian contractor for the U.S. Navy from 1986-1993, Dale began work in residential property management and then became part owner of a corporate housing company.
Dale founded his own residential real estate company in 1997. Houston is known as "The Bayou City" and Bayou City Real Estate, Inc was located near downtown in a classic 1920 two-story building that Dale purchased and remodeled into beautiful offices for his team of Realtors, where the company grew to include 16 agents.
Dale later accepted an offer to sell that company to a national franchise of Coldwell Banker in 2002, where he served as Vice President of that firm for the next three years.
Dale then joined the top luxury firm in Houston, the prestigious Martha Turner Sotheby's International Realty. Dale was in the group of the company's Top Producers from his first year with the firm, achieving the distinction of being included in the Martha Turner Properties "Circle of Excellence". Dale eventually went on to be inducted into the company's Hall of Fame for consistently delivering successful, Top Producing results for his clients.
Gigi launched her real estate career in the late 90's. She also excelled at the top luxury firms in Houston, at both Coldwell Banker and John Daugherty, Realtors, before joining the prestigious Martha Turner Sotheby's International Realty.
Their goal, however, remained the same; to sell luxury homes in this paradise known as Maui – and help make the dream come true for others who shared their passion for living in the most perfect place on Earth. After years of planning, it was finally time to take the plunge.
Dale and Gigi's Hawaii real estate careers began in 2011 at Coldwell Banker with their search for a personal home on Maui. Researching and experiencing the many wonderful aspects of every part of Maui gave them a deep love for the unique differences that life in the various areas of this beautiful place had to offer. They purchased their first Maui home in 2012 and the adventure began.
Not long after, Dale and Gigi joined the top producing agents at the boutique luxury firm Wailea Realty Corporation in The Shops At Wailea and knew that they were finally home.
Achieving success in the Maui Luxury Market and consistently delivering excellent service to their clients, Dale and Gigi are proud to be a part of the most elite group of real estate practitioners representing the finest properties on Maui. Dale and Gigi know that this affiliation is a huge benefit for their clients as well.
Specializing in the Maui luxury markets of Wailea, Makena, and Kihei has been a perfect fit for this husband and wife Realtor team.
Now, with a combined 40+ years in real estate experience and hundreds of millions of dollars in successfully closed real estate transactions, providing excellence in real estate here in the most beautiful place on Earth and making their client's dreams come true is the most rewarding part of their careers.
Dale & Gigi have sold homes and represented clients in all parts of Maui, with a specialized focus on the Wailea, Makena, and South Kihei markets.
The family is an important part of their lives. Dale and Gigi have three sons, with a son and daughter in law that live in Honolulu, and a son in Los Angeles and another in Florida. Being forever grateful for the opportunity to live life in the most beautiful place on Earth, Dale and Gigi make giving back to help others and the community a part of every closing.
Dale and Gigi contribute a portion from each closing to the following charities;
Maui Humane Society
Maui Food Bank
Pacific Whale Foundation
Dale & Gigi are also proud supporters of;
Hawaiian Islands Land Trust
Maui Arts & Cultural Center
Let Dale and Gigi help you make your Maui dream come true.