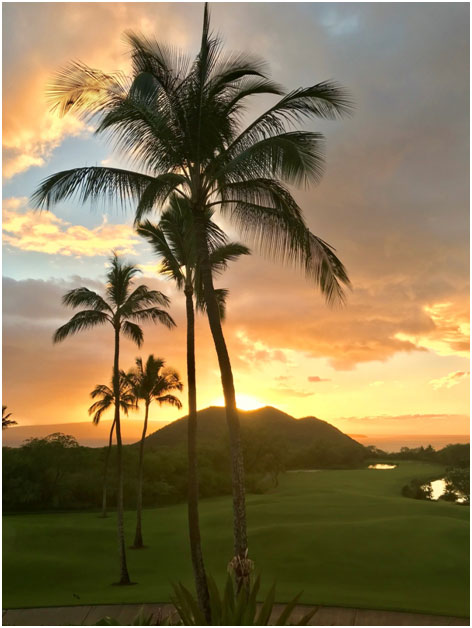 Golf is a sport that emphasizes patience over strength, stealth over speed, and strategy combined with a variety of specialized skills. It's also a sport that is not for the faint of heart. Lucky for you, you healthy hearted reader, Wailea, Makena and other locations on Maui offer many different golf courses for you to check out in your spare time. Some locations offer multiple courses to test your skills. You'll be challenged and delighted no matter which club you choose. It's always tough to pick favorites, but here are five of the best golf courses on Maui – and of course we are most partial to the ones closest to where we live! For a more comprehensive list of available golf courses to enjoy on Maui (with links to each locations websites), check out our "Activities" page on LuxuryMauiRealty.com – https://www.luxurymauirealty.com/activities/
Makena Golf & Beach Club

There is so much to cover on this one that we could write a novel. Makena is causing a quite a stir here on Maui for any number of reasons. First, if you are considering owning in or near this area, call us right away because opportunities are getting picked up fast and this is a "member only" resort. We keep up with everything happening here – and there are a lot of possibilities that can combine your real estate purchase with exclusive access to this amazing golf course. Makena has a pristine golf course and it is member only access. It is a course that stretches from the sea to the mountain, with wonderfully distracting views from every vantage point. In addition to the golf course, the Beach Club portion of Makena Golf includes snorkeling, fishing, whale watching, stargazing, drinking and downward facing dog plus more for all you yoga buffs out there. When you finish your golfing for the day, you have so many options that there will hardly be a reason to leave the Makena Club area. This is all located along Maluaka Beach, one of the world's finest.

Wailea Golf Club

Wailea Golf Club is three superb courses in one, covering the entire length of the Wailea Resort area. This is very popular and golfers from the world over come to enjoy these three unique and challenging courses; The Gold Course, The Emerald Course and The Blue Course, affectionately referred to by some as "Old Blue". Located in the foothills of Haleakala, The Blue Course is truly something to behold. The natural landscape makes for a nice golfing challenge. The Emerald Course is one that players of varying skill levels can enjoy. The Gold Course is where the Champions Skins Game was hosted and played from 2001 to 2007.

Maui Nui Golf Club

The management at Maui Nui Golf Club is constantly working to offer their customers the best experience possible. They renovate the fairways to make them wider and more "golfer friendly". The have reshaped the green passages and enlarge them when deemed necessary. In addition to excellent customer service, Maui Nui Golf Course has a mission to test and improve your golfing skills. Many of our clients who play here say that they appreciate the easy going, laid back experience that you can enjoy golfing this course.

Kahili Golf Course

Like Wailea Golf Club's Emerald Course, Kahili Golf Course is one that many different types of golfers can enjoy, ranging from beginner, to intermediate to professional. The lake and the creek, skillfully intertwined in the scenery, aren't just for show. They are challenging obstacles to overcome when taking your shot. So whether you're a putter or a long hitter, this course is for you.

The King Kamehameha Golf Club

A private golf club on Maui, The King Kamehameha Golf Club is named for what many consider the greatest king in the history of the Hawaiian Islands. It was named to honor him as a symbol of the founding intentions to combine the land with the native, natural resources. Frank Lloyd Wright designed the 70,000 square foot layout of the golf club's main facility that sits majestically over 700 feet above sea level. The awe-inspiring full view of Haleakala is resplendent from the course as you play.
There is no shortage of great courses to play on Maui, so we kept our list to the most convenient from our South Maui home base.
No matter where you decide to golf here on Maui, you really can't go wrong. It is the place. It is the atmosphere.
If you want to move closer to one of these amazing Maui golf courses, give me a call today.
You need a Real Estate Professional who can help you navigate the market to find the best home for you, and then get you the best deal.
I can help you find the perfect Wailea, Makena or Maui home that will make you feel just as incredible as you do when you step on to a great golf course.
Let's find the dream home you have been looking for – it is waiting for you right here in paradise.