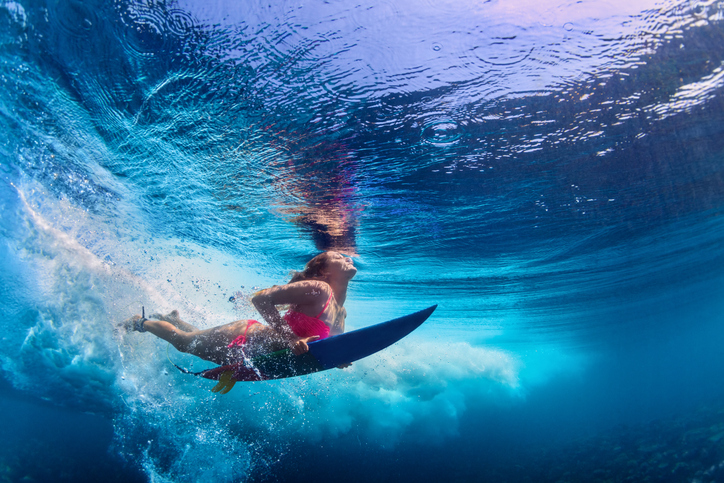 The island of Maui is known as one of the best destinations in the world for many reasons: its rich history, unspoiled natural beauty, pristine beaches, enchanting waterfalls, lush tropical forests and gardens, unforgettable tours, and so much more.
There's plenty in store for visitors of all ages – Maui's diverse array of attractions and destinations offer the perfect balance between relaxation and adventure. Here are some of the best activities and places to experience:
Surfing & Kite Surfing
Surfing is more than a pastime in Hawaii – it's a significant part of its history and is deeply ingrained in its culture. Surfing was known as "heenalu" in ancient Hawaiian culture, a spiritual practice reserved for royalty. Today, it is an ocean sport enjoyed by all ages.
Many surfers from all over the world flock to Maui, which is home to some of Hawaii's top surfing destinations. Some of the best surfing spots in Maui are Hookipa, world famous "Jaws", The Cove, to name a few.
Maui is the world capital for Kite Surfing, so whether you want to get out there and catch some air, or just watch and enjoy from the sidelines, Hookipa is an outstanding destination where you will see all types of board sports playing out. And when the waves are really big and the wind is high – look out – it will be an exciting time for all.
Road to Hana
Road to Hana is one of Maui's most popular activities, and one you should definitely experience at least once in your lifetime. Road to Hana stretches from the North Shore towards East Maui, winding through an unbelievably gorgeous landscape surrounded by breathtaking scenery. Travelling on the Road to Hana presents a one-of-a-kind opportunity to take in Hawaii's natural wonders and get a rare glimpse of Old Hawaii.
Tourists can choose to join a tour of the Road to Hana – or rent a vehicle and explore it on their own.
Many visitors may come and go the same route, around the north side of the island, with the lush rainforest jungles and stunning waterfalls, but some truly adventurous travelers may wish to explore some areas of the south side of the island, which offers incredible landscapes totally different than anywhere else on Maui. A serious word of caution though; be sure that you explore some of these areas with a "local" who is familiar with these backroads, which can sometimes range from rough to downright treacherous. If you try it on your own, be certain that your vehicle is properly insured (most rental cars are not) – and also that your driver, as well as the vehicle, are prepared for this adventure.
See the sunrise at Mt. Haleakala
The summit of Mt. Haleakala is an excellent vantage point for those who'd like to enjoy a picture perfect view of the famed Maui sunrise. Getting up early and heading to this spot to see the sunrise is a terrific way to kick off your Maui vacation. It'll help you get through your jetlag as well, in case you're crossing time zones, so it's a great idea to put this as perhaps the first destination on your list.
Before planning the trip, visit Hawaii's National Park Service website to get a reservation. Remember to get to the Haleakala Visitor Center around 30 minutes before sunrise, so you can get the best view. It can range from quite chilly to downright cold when at the summit, so make sure to wear a jacket, bring a blanket and dress appropriately to keep warm.
Go snorkeling at Molokini
The Molokini Crater is the perfect snorkeling destination. Located about three miles away from the South Maui shoreline, this one-of-a-kind destination is home to a diverse variety of marine life, which include manta rays, sea turtles, over 35 coral species and 100 types of algae, and a dazzling array of tropical fish. Molokini is classified as a mini volcanic caldera island, and its snorkel site isn't surrounded by sand, which means snorkelers get to enjoy outstanding ocean clarity with underwater visibility of up to 150 feet.
Molokini snorkeling excursions are available during mornings or afternoons. You can find out more by visiting this site.
If you are interested living in Maui, check out these amazing homes in Wailea, Makena, Kihei, and nearby communties. Feel free to contact your top Maui realtors, Dale and Gigi here.